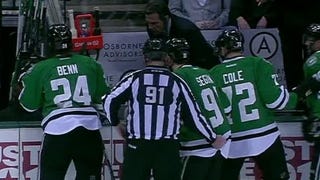 The evening of March 10th, Richard Peverley of the NHL's Dallas Stars finished a shift during the first period, returned to the bench, lost consciousness and collapsed. Within seconds, a nurse from the stands rushed to him amongst his terrified and wildly gesturing teammates (imagine her launching herself over the glass into the bench, it's more fun that way). The talented and efficient medical teams present at any major professional sporting event immediately followed. He was given oxygen and an IV, and his heart was defibrillated back into a normal rhythm on the first attempt (a very positive sign). He regained consciousness immediately and was rushed to the hospital where he recovered without further sequelae.
His season is over and questions remain as to the future of his professional career, but his story is a positive one. He's alive and, all things considered, doing pretty damn well. Richard's cardiac condition was previously identified and I'd expect this allowed the Stars' medical staff to be even more prepared for this near tragedy than usual. Not everyone is so lucky.
Approximately 150 young athletes are victim to sudden cardiac death each year. The sudden death of a young person is always tragic, regardless of cause, but something about an asymptomatic and vibrant young athlete's heart betraying them demands even more attention. In 1990, Hank Gathers of Loyola Marymount University collapsed on the court shortly after a thunderous alley-oop. In 2011, Michigan high school student Wes Leonard collapsed shortly after hitting a game-winning shot to cap an undefeated season. Both were pronounced dead upon arrival at the hospital. The major issue these deaths raise is still an ongoing discussion today: what can the medical and scholastic athletic communities do to prevent them?
This topic was addressed in 2010 by Deadspin, 2011 by SI, and last November by NEJM. The usual conclusion is that while the most promising approach is some type of pre-participation screening, possibly with an electrocardiogram (ECG), the apparent benefits don't outweigh the costs (financial, health care resources, false positives, and others). I'd encourage you to take a quick read through all of those posts; both Barry's and SI's pieces will be better written than mine and the NEJM article is four short arguments from different physicians defending common takes on this issue. When you're done with that, the rest of this post will attempt to go through some of the science, specifically the problem of hypertrophic cardiomyopathy (the most common cause), how an ECG allows early detection, and the research currently driving the debate.