A 41-year-old woman experienced an odd feeling in a few of her fingers. It's called dysesthesia, and refers to an abnormal and usually uncomfortable sensation. There are a variety of causes, but stroke or TIA (transient ischemic attack…like a mini/temporary stroke) are in the differential and require immediate medical attention. As is so often the case, she did not seek care. Two weeks later, she collapsed. At the ER, she had aphasia (disruption of speech), and weakness in the left side of her body. These symptoms persisted despite treatment and she was eventually released to the care of her parents and a rehabilitation center. Four months previously, her ex-husband had strangled her. This damaged her carotid artery lining and led to development of a clot. This clot then broke apart, sending chunks tumbling onward to wedge in a smaller vessel, leaving the portions of her brain responsible for some portion of speech and motor control of her left face, arm and leg starved for oxygen.1
The medical community uses the term Intimate Partner Violence, or IPV, to refer to sexual, physical, or psychological abuse by a current or former intimate partner. It's terrifyingly prevalent. Primary care, ER, and OBGYN health care workers especially see the direct and indirect effects time and time again.
The CDC runs the National Intimate Partner and Sexual Violence Survey, "an ongoing, nationally representative, random digit dial telephone survey that collects information about experiences of intimate partner violence, sexual violence, and stalking from non-institutionalized English- and/or Spanish-speaking women and men aged 18 or older in the United States." 2 Unless cited otherwise, all of the following statistics are via the NISVS. Every single value is underreported to some degree.
24.3 percent of women will suffer severe physical violence by an intimate partner in their lifetime. 43.7 percent of Black women. 53.8 percent of Hispanic women. 2.7 percent of women reported severe physical violence in last 12 months.
One in eight of all victims suffered physical violence, stalking, and rape.
I think that just talking about what guys shouldn't do, we got to also make sure that you can do your part to do whatever you can do to make, to try to make sure it doesn't happen. – Stephen A. Smith
Among victims of sexual violence, the median reported incidence was two or more unique attacks. Among victims of physical violence, the median reported incidence was three of more unique attacks (Figure via NISVS2).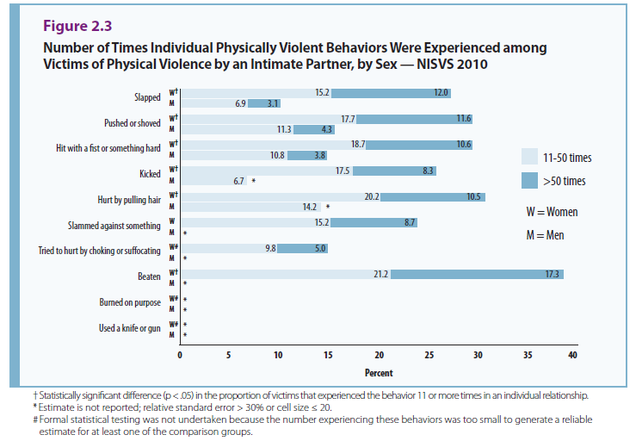 Prevalence increases in the presence of life stressors: 11.6 percent of women who experienced food insecurity in the past 12 months. 10.0 percent of women who experienced housing insecurity. Less than half of women who needed housing or victim's advocate services during their lifetime received them.
…I simply asked: now what about the other side. – Stephen A. Smith
"An 18-year-old woman presented to her family physician for an initial obstetric examination…She was strongly considering giving up the baby for adoption because of 'financial and other' reasons. Answers to screening violence history questions…indicated that she had been beaten by her father from preschool age until she was 13 years of age; her parents then divorced. The patient stated that her present partner had 'slapped her around' on several occasions and that once she was 'accidentally dragged by his truck' during an argument. He had slammed the driver's door, started the truck and put it in gear, reportedly without realizing that her dress was caught in the car door. On further questioning the patient stated that she was not happy in this relationship and in fact did not feel safe. However, she stated that she 'had no place else to go' and expressed optimism about the future because her partner had begun to attend church and stated that he wanted to be a good father."3
One in six pregnant women is abused during her pregnancy and battering often increases during pregnancy. 4 "Pregnant women's risk of minor violence was 28.3% greater than that of non-pregnant women; pregnant women's risk of severe violence was 60.6% greater than non-pregnant women; overall risk of any violence was 35.6% greater than non-pregnant women."5 Violence during pregnancy is associated with an abundance of complications for both mother and fetus, including lack of prenatal care, low-birth weight, premature labor, in utero fetal fractures, and fetal death.5
Not that there's real provocation, but the elements of provocation, you got to make sure that you address them, because we've got to do is do what we can to try to prevent the situation from happening in any way. –Stephen A. Smith
The "provocations" for intimate partner violence include being between 11 and 24 years old, housing difficulties, food difficulties, and pregnancy. These are not isolated instances, but a learned behavior that perpetuates repeated abuse, creating a progressively more dangerous situation. "A woman and her family are often in greater danger after leaving the abuser than before." 4
"More than 15 million children in the United States live in families where IPV occurs, and approximately 7 million of them witness severe violence…" 6 Prolonged stress in children causes an imbalance of their hormones. The acute response to stress which helps our body cope is dangerous when prolonged at any age, but the effects on children, and in this setting, are especially galling. These kids demonstrate increased incidence of asthma (which is harder to treat than your average childhood asthma due to the specific causative pathway induced by stress), impaired development of neural structure and function in the brain (associated with learning problems and mental illness), increased rates of substance abuse, suicide, violent behavior, and bedwetting, to name just a few.4, 6
It's also well established that these children are at an increased risk of both accidental and intentional violence. Later in life, they are more likely to perpetuate this violence themselves, with a history of abuse often found in adult perpetrators of IPV. This heartbreaking cycle is driven by the offender's experiences. The only parent-child relationship they know is one of physical and psychological punishment and coercion. They are also more likely to struggle maintaining intimate relationships in the future; the absence of loving relationships fosters distrust which can be very difficult to overcome. It should be noted these are only tendencies and are not excuses, but of utmost importance in preventing such behavior from occurring in the future.
If anyone you know is a current or past victim of IPV, do not urge them to leave. The danger can be greatest while extricating oneself from these situations and no one is better situated to evaluate the danger than the victim themselves. Do not attempt to intervene yourself in the situation. Support them emotionally and encourage them to reach out for help.
IPV can feel inescapable and deserved, but that is never the case. If you are the victim of IPV, know that you are not alone, and there are resources devoted solely to help and support you. The National Domestic Violence Hotline is anonymous (if you wish) and is available 24/7. Their number is 1-800-799-7233. Any ER and any physician can also provide assistance, in the shape of physical and mental health care and/or finding community services available for support, therapy, and help in escaping the situation if desired.
1. Thomas, Patricia, M.D., and Lowitt, Nancy Ryan, M.D. "A Traumatic Experience." The New England Journal of Medicine. 333 (1995): 307-310. Online.
2. Centers for Disease Control and Prevention. (2010). Intimate Partner Violence in the United States. Retrieved from http://www.cdc.gov/violencepreven….
3. Eyler, A.E., M.D., M.P.H., and Cohen, Marian, A.C.S.W. "Case Studies in Partner Violence." Chelsea Family Practice Center, Chelsea, Michigan. Am Fam Physician. 60(9) (1999); 2569-2576. Online.
4. Eisenstat, S. A., M.D., and Bancroft, L., B.A. "Domestic Violence." The New England Journal of Medicine. 341 (1999): 886-892. Online.
5. Doyle, D.M., CNM, MSN, et al. "Battering in Pregnancy: A Review of the Literature and Recommended Health Care Practices." Massachusetts Department of Public Health Bureau of Family and Community Health. (1995).
6. Bair-Merritt, Megan, M.D., et al. "Silent Victims – An Epidemic of Childhood Exposure to Domestic Violence." The New England Journal of Medicine. 369 (2013): 1673-1675. Online.